Intergalactic glamorous gossip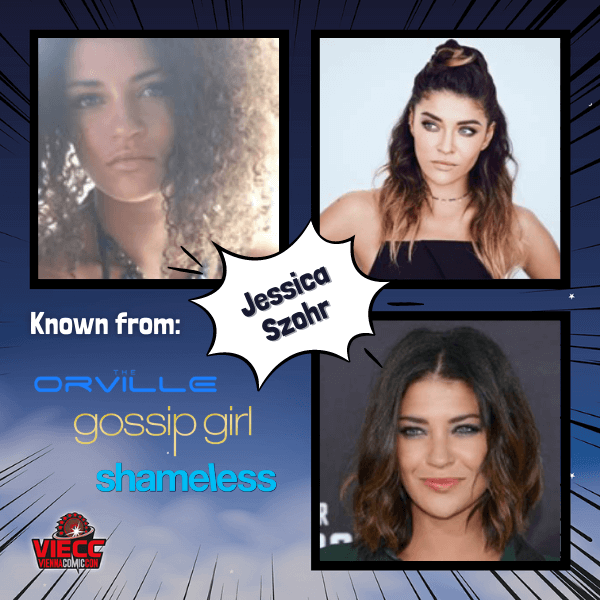 JESSICA is a series regular on Seth MacFarlane's Fox drama THE ORVILLE. Szohr was previously on Showtime's hit show SHAMELESS as the intelligent, tough, strong lesbian "Nessa," who befriends Emma Rossum's character (Fiona Gallagher). She reprised her role in Season 9. Jessica stars as the female lead opposite Jamie Foxx and Jeremy Piven in ALL STAR WEEKEND. She also starred in TWIN PEAKS for Showtime/David Lynch. She can also be seen recurring on DirecTV's hit series KINGDOM opposite Frank Grillo, Jonathan Tucker, and Nick Jonas.
She was previously seen as the co-lead in Matt Nix's (BURN NOTICE) new USA Network series COMPLICATIONS which aired in 2015. Jessica was seen in theaters with Universal's TED 2 with Mark Wahlberg, Fox's THE INTERNSHIP with Vince Vaughn and Owen Wilson, and with Miles Teller and Analeigh Tipton in TWO NIGHT STAND from director Max Nichols based on the Black List script.
Jessica is best known for playing 'Vanessa Abrams' on Gossip Girl for 4 years which aired/airs in 197 countries worldwide. In 2010, she was the female lead in Piranha for The Weinstein Co and was rewarded with the Annual Breakthrough Award for "Breakthrough Actress". She's also appeared in the features Tower Heist (with Ben Stiller) and I Don't Know How She Does It (with Sarah Jessica Parker) and stars in the upcoming features Light Years opposite Clark Gregg and Allison Janney, Pawn opposite Nikki Reed and Ray Liotta, and Ten Cent Pistol opposite Jena Malone.
At VIECC Vienna Comic Con 2021 Jessica Szohr will be available for autographs and photo-ops on both days Saturday and Sunday, or check out her panel on main stage! Click for more info on tickets and tokens!